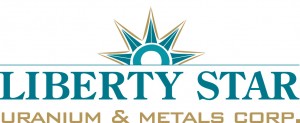 January 2, 2013
Liberty Star Uranium & Metals Corp.
LBSR: OTCQB           LBVN: Frankfurt
http://www.libertystaruranium.com/
Statement to Shareholders From James Briscoe, CEO
From Liberty Star Uranium & Metals Corp.'s (LBSR:OTCQB) Founder, CEO and Chief Geologist James Briscoe:
"I believe the recent drop in our share price stems from the news that we are engaged in a dispute with our former contractor in Alaska.  I won't go into the details of our differences, but it is clear to me that the situation is being addressed aggressively, and we do not expect that resolution will require a lengthy process in the courts.
On the afternoon of Friday December 28 we filed a First Amended Complaint in the Superior Court of Alaska which lists numerous claims for relief.  We reserve the right to file additional complaints as additional facts emerge.  The Company asserts that it engaged in no wrong doing and the fault lies with our former contractor. We are optimistic all matters will be resolved in our favor. This document is public and is available from the Superior Court of Alaska.
Our deal with Northern Dynasty has been fully performed and our law firm has informed the Company that the deal is closed. The Company debt, which was incurred in 2010, is retired.
Our share price is distressed because of the items discussed above. Those negatives have, or the Company expects, will soon be resolved in our favor.  Most importantly we no longer have a long term debt.
We will turn our full attention to mineral exploration on lands that we own 100 % including the remaining Big Chunk South and North claims, and Hay Mountain and other targets in Arizona.  We continue searching for capable JV partners for projects which are at that stage."
"James A. Briscoe"
James A. Briscoe, Professional Geologist, AZ CA
CEO/Chief Geologist
Liberty Star Uranium & Metals Corp.
Contact:
Liberty Star Uranium & Metals Corp. Tracy Myers, 520-425-1433 Investor Relations
info@LibertyStarUranium.com
Follow Liberty Star Uranium & Metals Corp. on
Facebook
&
Twitter @LibertyStarLBSR