Recent Developments at Hay Mountain
By CEO/Chief Geologist James A. Briscoe March 23, 2016
 Field Work and Approved Exploration Plan of Operation
With the ending of the "Quiet Period" I would like to update shareholders and interested parties on the field work that has been ongoing during the "Quiet Period". Work continues at Hay Mountain up to the current time. News releases will continue, as will technical work starting with the Notice of Effectiveness for the S-1 (line of credit).
Liberty Star's Field Manager, Jay Crawford, continues to do meticulous walkovers of the very large main geochem – ZTEM anomaly, using the Niton XRF ( model Niton XL3t GOLDD+: the newest with GPS location of each sample built into the instrument and through the X-ray tube photos of the material being X-ray analyzed), which has yielded discovery of significantly more green oxide copper (copper carbonate-malachite) beyond those we have reported in October 2015.  The new findings extend along a somewhat linear outcrop sample distance of about two miles.  Recently he has been assisted for a short time, by Sarah Baxter, Consulting Geologist and expert in porphyry copper associated skarn deposits.
We are using Niton XRF findings as a guide to elements that are more dispersed than copper:
Molybdenum (moly for short), which is the solubility inverse of copper and highly soluble in an alkaline/limestone host rock so that it is widely dispersed. Conversely copper is very mobile in an acid environment (which is not present over the Hay Mount anomaly) and almost completely immobile in a limestone environment.  As a result moly is widely dispersed in the limestone over Hay Mountain and a general pathfinder for copper.
Other elements which are part of the porphyry copper footprint include potassium, zinc and manganese.  The elevation of these elements on any Niton traverse almost always leads to anomalous copper and visible green copper oxide (the carbonate mineral malachite) along veinlets a few inches below the surface. See the photos below, taken December 10th:  blobs of malachite set in white carbonate veins or reddish to white sugary marble associated with carbonate veinlets.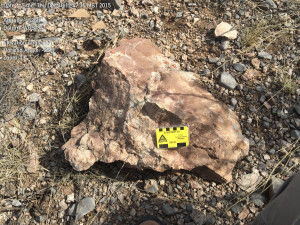 After viewing theses at the highest magnification possible on the photo images, I conclude the malachite is derived from chalcopyrite because of remaining chalcopyrite crystal structure (pseudomorphs), which upon oxidizing immediately reacts with the surrounding carbonate forming the mineral malachite, but mimic the chalcopyrite crystals. Malachite is almost completely insoluble in a limestone environment so does not migrate out of the location of the original chalcopyrite crystal. I believe the chalcopyrite came to rest where it is because it was deposited by hydrothermal solutions emanating through more massive replacement bodies below, ultimately sourced from hydrothermal solutions associated with the cooling magma body indicated by the massive magnetic anomaly under the Hay Mountain target.
We are now seeing green copper oxide along with moly and zinc – manganese – potassium anomalous rock over about two linear miles from east to west, primarily where our first exploratory holes have been plotted, and expanding to the southwest.  Much of this ground is under thin cover, except in exposures of bed rock which Jay is currently sampling.  The soil covered subsurface bed rock is still inaccessible to surface sampling by the Niton XRF or rock chip samples, but anomalies in vegetation samples reveal porphyry copper metal suite elements carried to the surface by plant roots.  In my experience this signature is indicative of a large body of porphyry copper skarn mineralization, below the surface.
Regarding the Arizona State Land Department permitting process:
Approval of our Exploration Plan of Operation ("EPO") received for the period January 26, 2016 through September 29, 2016. (See NR 203)
Refinement of drill hole placement continues based on our latest findings using GIS and Niton findings.
Our experienced drilling contractor will obtain specific permits immediately prior to actual drilling from the Arizona Department of Water Resources (ADWR)
Specific end of drilling procedures are in place and were approved as part of the EPO
James A. Briscoe, CEO, President & Chief Geologist
RISK FACTORS FOR OUR COMPANY ARE SET OUT IN OUR 10-K AND OTHER PERIODIC FILINGS FILED WITH THE SEC ON EDGAR.
Follow Liberty Star Uranium & Metals Corp. on Agoracom, Facebook , LinkedIn & Twitter@LibertyStarLBSR
Tracy Myers Liberty Star Investor Relations
520-425-1433 info@libertystaruranium.com