Shareholder Q & A, Part 1: Hear Agoracom's Interview with CEO/Chief Geologist James A. Briscoe
Click below to hear Agoracom's George Tsiolis interview Mr. Briscoe in a Q & A format using questions posed by Liberty Star shareholders. Mr. Briscoe answers each question thoroughly and in great detail. More questions and answers will come out early next week in Part 2 of the audio broadcast.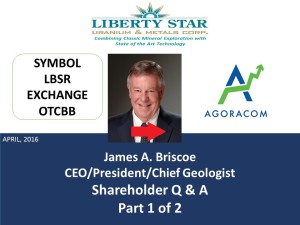 You may also hear the interview on
YouTube
About Liberty Star
Liberty Star is an Arizona-based mineral exploration company engaged in the acquisition, exploration, and development of mineral properties in Arizona and the southwest USA. Currently, the Company controls properties which are located over what management considers some of North America's richest mineralized regions for copper, gold, silver, molybdenum (moly), and uranium.
RISK FACTORS FOR OUR COMPANY ARE SET OUT IN OUR 10-K AND OTHER PERIODIC FILINGS FILED WITH THE SEC ON EDGAR.