About Financial Management of Phase 1 Drilling at the Hay Mountain Project – By James A. Briscoe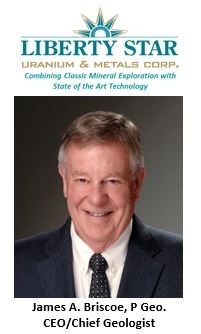 About Financial Management of Phase 1 Drilling at the Hay Mountain Project
By James A. Briscoe September 28, 2016
Last week a shareholder asked about some of the financial aspects of running our phase 1 drilling program at Hay Mountain, and how funds are spent. His question gave me the opportunity to talk about how we plan to account for spending and make projections about how much money we will need to stay on schedule.
As far as financial management, we are using Microsoft's Project Manager software. It is an active Gantt chart analyzer. In that very detailed analysis projected out 7 years, we have included 5,000 cost variables (activity and consumables).  Once drilling begins, that chart updates every day of the project. It will tell management money expended, drilling rate, whether we are ahead or behind schedule i.e. "estimated time to completion," and what the drill penetration rate is and the all – in cost per foot, whether consumables are at projected levels (fuel, diamond bit wear, drill additives, number of assay intervals and thus cost of assays, water consumption and thus cost, travel-food-and lodging expenses etc. etc.)
We have a carefully conceived plan, but drill programs have many variables, which can change daily between day shift and graveyard shift, and with weather change; for example, we can't drill during lightning storms for obvious reasons, snow and heavy rain and freezing weather slow things down.  Heat (up to 110 F in the summer) is hard on personnel and equipment, and affects progress.  We will keep up with all of the variables in a consistent and measurable way through MS Project Manager, with a cost accountant in charge. We also plan to report, as able, so investors will know the progress.  However, until these are in official news releases, they are confidential per SEC regulations.
The shareholder also asks about the registration of stock purchased via private placement.  In our case shares obtained through private placements were all SEC Regulation 144 shares, which means owners have to wait six months before they can register their shares for sale.   Such registration is the responsibility of the shareholder. While the Company will provide some help in executing registration, in the end it is the shareholder's responsibility.  Hundreds of millions of shares from thousands of companies are registered yearly and so it is a standard procedure.  Once registered, the shares purchased via private placement can be sold on the open market. The company will not have a general registration of shares, and to our knowledge, this is never done.
I would like to address here a common concern from shareholders; "if this takes so long to produce metal, there will be no appreciation of the stock or way of profiting for many years."  Not so.  As we start to measure the mineral body parameters, including average grade, tonnage, apparent mining method (i.e. open pit, underground or a combination), and determination of what the metallurgical recovery method is, the project begins to transition from a mineral body measured by indirect methods of geology, geochemistry, and geophysics, (for short, Geoscientific Studies) to an apparent minable mineral body, which by definition is an ore body.  Further, all the indirect evidence tells us that what  we have encountered at the Hay Mountain Project is a typical porphyry copper body, at least in part hosted in lower Paleozoic limestones (altered to skarn replacement high grade mineralization), as are many surrounding large mines in the Gold-Copper Cluster. Hay Mountain is simply another one, but as indicated by our Geoscientific Studies a very, very large one.  Because of its proximity to Bisbee, Arizona, and Cananea, Sonora Mexico, (respectively, about 15 miles and 40 miles south) high grade is to be expected; dependable historical records show that when Bisbee was first opened copper grades were between 5 and 30 percent copper with important precious metal co-products (Dr. F.L. Ransome, U S. Geological Professional Paper, Warren Mining District, 1905).  If similar high grade is encountered in the initial drilling, which because of the Geoscientific Studies and comparison to known ore bodies, I believe it will, the Hay Mountain ore body will be one of the first virgin ore bodies discovered of the type and size in the last 100+ years.   This will predictably stimulate the purchase of Liberty Star stock with resultant buying and significant price appreciation.
RISK FACTORS FOR OUR COMPANY ARE SET OUT IN OUR 10-K AND OTHER PERIODIC FILINGS FILED WITH THE SEC ON EDGAR.
Follow Liberty Star Uranium & Metals Corp. on Agoracom, Facebook , LinkedIn & Twitter@LibertyStarLBSR
Contact:
Agoracom Investor Relations
lbsr@agoracom.com
http://agoracom.com/ir/libertystar
or
Liberty Star Uranium & Metals Corp.
Tracy Myers
520-425-1433
Investor Relations
info@libertystaruranium.com