Agoracom.com CEO Interview & James A. Briscoe: CEO Year End Update Part 3
Agoracom.com CEO Interview with Liberty Star's James A. Briscoe: CEO Year End Update Part 3 
TUCSON, Arizona–(
Feb 5
)–Liberty Star Uranium & Metals Corp.(
OTCBB: LBSR
) (
OTCPK: LBSR
) is pleased to present Liberty Star CEO/Chief Geologist Jim Briscoe's
Year End Update Part 3
. 
Agoracom.com's
George Tsiolis interviewed Mr. Briscoe. The topic of discussion: "The Trump Effect on Our Industry, Copper to Make Our Nation Go & Grow."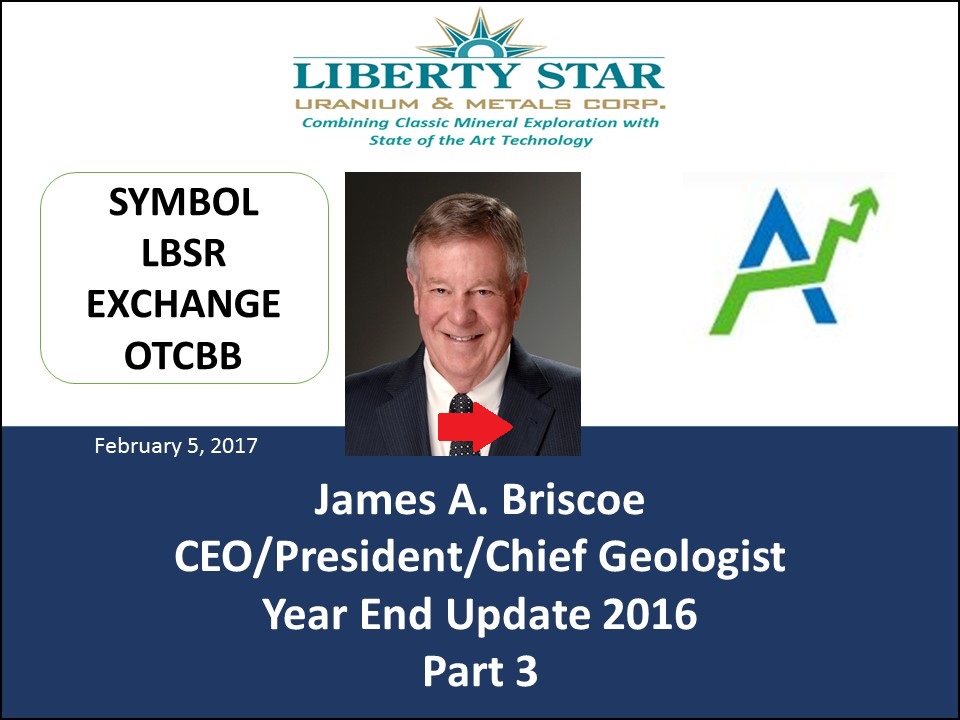 Liberty Star is an Arizona-based mineral exploration company engaged in the acquisition, exploration, and development of mineral properties in Arizona and the southwest USA. Currently, the Company controls properties which are located over what management considers some of North America's richest mineralized regions for copper, gold, silver, molybdenum (moly), and uranium. Liberty Star's premier property is The Hay Mountain Project, located in Cochise County, Arizona.
RISK FACTORS FOR OUR COMPANY ARE SET OUT IN OUR 10-K AND OTHER PERIODIC FILINGS FILED WITH THE SEC ON EDGAR.
To "CEO End of Year Update Part 1" on Liberty Star's website:
To "CEO End of Year Update Part 2" on Liberty Star's website: