WE NEED YOUR HELP: Exploration of East & West Silverbell from 1990 to 2000 & the creation of Ironwood Forest National Monument
Click on text to continue reading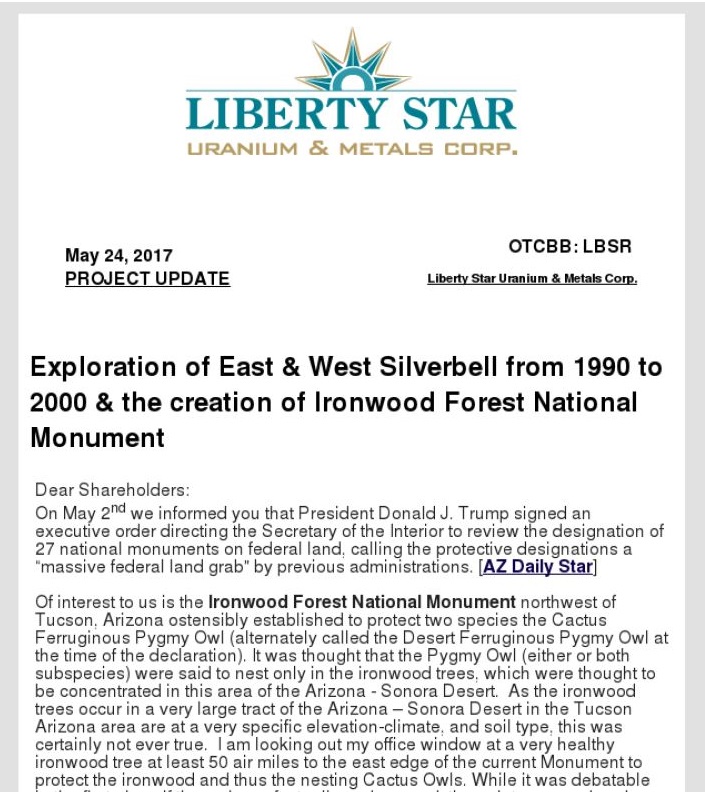 Sample Letter [Copy/Paste]
Date
Federal Addressee
RE: April 26, 2017 Executive Order instructing Interior Secretary Ryan Zinke to review any national monument created since Jan. 1, 1996, specifically The Ironwood Forest National Monument, Arizona
Dear   ,
My name is (your first and last name) and I am a voter and taxpayer interested in seeing our national economy grow by fostering domestic industries. I would like to offer my support to the rescinding of the National Monument designation conferred on the Ironwood Forest National Monument in southeast Arizona.
It is my understanding that the creation of the Monument was questionable at the time of its inception and that now with the federal judiciary recognizing the unquestionable stability of the Cactus Owl population, and a better understanding of the environmental imperatives of the native ironwood tree which is widespread and not endangered, that there is no need to specially designate this area as hands off to the mining industry, an enduring cornerstone of Arizona's economy.
I understand that it is Secretary of the Interior Ryan Zinke's responsibility to undertake the evaluation of 27 National Monuments, but I want you to understand that this is an easy call, and I will be following this Monument's assessment. Thank-you for your time.
Sincerely,
SIGN YOUR NAME
Print your name
Street address
City, State, Zip code
The easiest way to comment is electronically to the Department of the Interior via regulations.gov: 
Go to http://www.regulations.gov Enter "DOI-2017-0002" in the search bar and click search.

For President Donald Trump & Vice President Mike Pence:
Get in Touch with The White House | whitehouse.gov
AZ Rep. Trent Franks:
https://franks.house.gov/contact-me
RISK FACTORS FOR OUR COMPANY ARE SET OUT IN OUR 10-K AND OTHER PERIODIC FILINGS FILED WITH THE SEC ON EDGAR.
Liberty Star Uranium & Metals Corp.
Tracy Myers
Investor Relations
520-425-1433
info@libertystaruranium.com
4 Responses to WE NEED YOUR HELP: Exploration of East & West Silverbell from 1990 to 2000 & the creation of Ironwood Forest National Monument