Field Conditions at Hay Mountain, Summer 2017
By James A. Briscoe, Registered Professional Geologist – AZ, CA
CEO/Chief Geologist, Liberty Star Uranium & Metals Corp.
August 18, 2017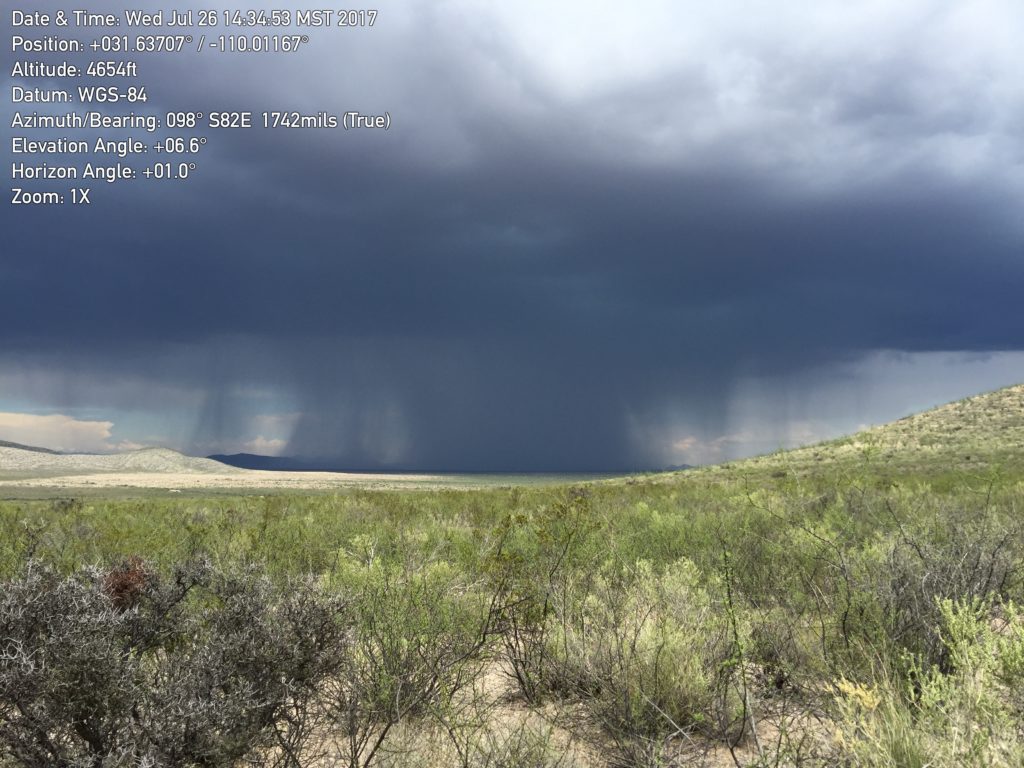 This is a microburst from a thunder storm directly over the east center of the Hay Mountain anomaly.  We are right in the middle of a severe monsoon season after a very hot pre-monsoon dry period where temperatures were up as high as 115F, with no rain.  Now it is mixed with intense thunderstorms, interspersed with high temperatures in the range of 100F in the day and 80F at night. The thunderstorms bring heavy rains and a lot of lightening and hail –  when rain is carried up in the 40-thousand-foot-high clouds, freezes and gains more ice and falls to the ground as hail.   Unexpected flash floods can kill people in "dry" creek beds.  This year 20 members of a family group of 21 drowned in a powerful flash flood in the northern part of the state.  Recently, 17 people were helicoptered out of Sabino Canyon on the northeast side of Tucson, and another 11 or more were rescued by helicopter from Tanque Verde Falls Canyon in the Rincon Mountains on the east side of Tucson.
Field Manager Jay Crawford is working on collecting veggie geochem samples in these unstable weather conditions. He is working from creosote bushes and White Thorn Acacia:  deep rooted phreatophyte that cover a good part of southern Arizona at this elevation and are excellent sample sources.  On the left side of the frame is a crucifixion thorn bush whose thorns are 2 to 3 inches long.  These are not a good sample source as its coverage is sporadic, and the same can be said of the desert broom – the light green bush in the foreground.  Jay is standing in the area we call the cobalt block (See: WE HAVE COBALT)
This area was part of New Spain before the Mexican Revolution and then became part of Sonora, Mexico and after the Gadsden Purchase part of Arizona – New Mexico Territory in 1853.  The Spaniards, Mexicans and then Americans fought the Apache leader Cochise and his bands and other Apache bands throughout a 200 years' war which finally ended with the surrender of Geronimo at Skeleton Canyon, about 50 miles east in the direction the camera is looking.  The current ranchers in this area mostly came from Texas with herds of cows in the early 1880's.  The owners of the ranches in this area are decedents of the "Cow Boys" who fought Wyatt Earp, his brothers, and Doc Holiday at the OK Corral in Tombstone,  about 6 miles behind the camera.  Feelings about that vendetta still run high among the decedents of the battling factions.  The ridge just to right of the camera is named Earp Ridge, and one of the limestone units that outcrop at Hay Mountain is the Earp Formation, which type locality is Earp Ridge.
My father's family came to Wilcox about 40 miles to the northeast of this location in 1910 where my grandfather homesteaded several ranches, but more importantly was the local doctor from 1910 to 1948.  He doctored ranchers, cowboys, lawmen, outlaws, miners and their families.  He started out in a horse and surrey and then bought a Model-T and drove in a radius of 30 to 40 miles over unmarked trails, and sometimes my dad drove (12 years + till he left for WW1 at 18).  Dr. Briscoe delivered Rex Allen "Last of the Singing Cowboys."  His family was so poor I think they paid Dr. Briscoe in chickens.  He also gave a physical to Big Nose Kate, Doc Holiday's girlfriend in Tombstone so she could get into the Arizona Pioneers Home in Prescott, Arizona, when she was a very old lady.  She got in, and died there some years later.
When I lived in Silverbell, Arizona, while working for ASARCO, my next-door neighbor asked me if I had any relatives in Wilcox and I said that I did describing the Briscoe clan there.  He said "well Dr. Briscoe saved my father's leg from amputation after a serious knife accident." 
Those days seem not so far gone in remote Cochise County
Follow Liberty Star Uranium & Metals Corp. on Agoracom, Facebook , LinkedIn & Twitter@LibertyStarLBSR
Contact:
Liberty Star Uranium & Metals Corp.
Tracy Myers – Investor Relations
520-425-1433
info@libertystaruranium.com