TUCSON, Arizona–(April 11)–Liberty Star Uranium & Metals Corp. ("Liberty Star" or the "Company") (OTCBB: LBSR) (OTCPK: LBSR) is pleased to present Liberty Star CEO/Chief Geologist Jim Briscoe answering shareholder questions in an audio broadcast hosted by Agoracom.com
Click below to hear Agoracom's George Tsiolis return interview with Mr. Briscoe in a Q & A format using questions posed by Liberty Star shareholders. This 30 minute plus follow-up Q & A session covers in depth questions about the geology of the Hay Mountain Project area and the financing of the project.  Again, Mr. Briscoe answers each question thoroughly and in great detail.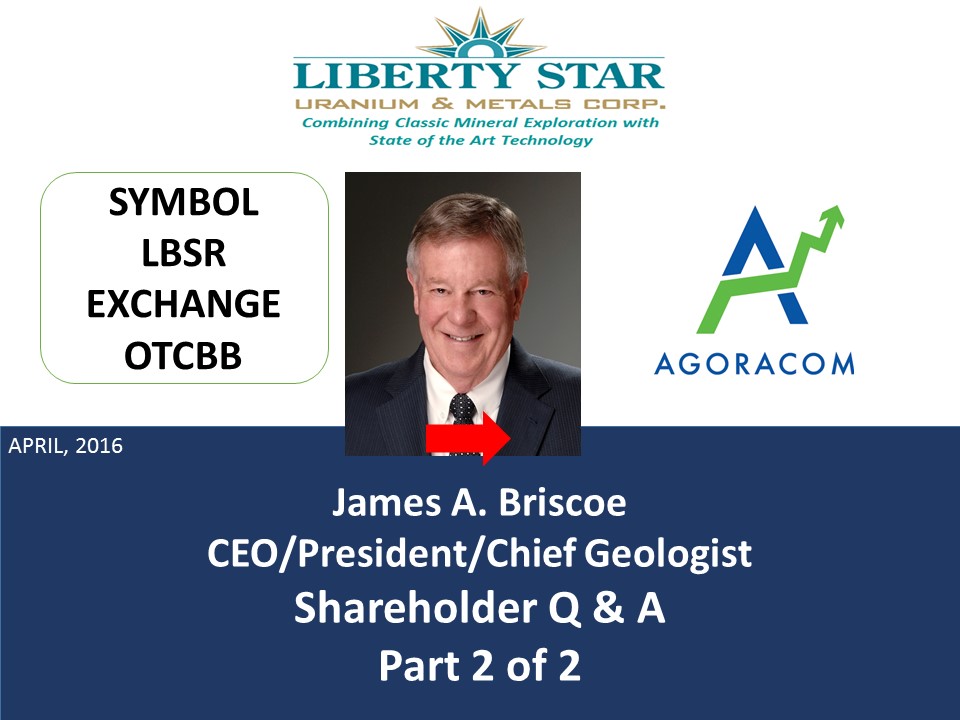 You may also hear the interview on YouTube
Review Shareholder Q & A Part 1 of 2
About Liberty Star
Liberty Star is an Arizona-based mineral exploration company engaged in the acquisition, exploration, and development of mineral properties in Arizona and the southwest USA. Currently, the Company controls properties which are located over what management considers some of North America's richest mineralized regions for copper, gold, silver, molybdenum (moly), and uranium.
RISK FACTORS FOR OUR COMPANY ARE SET OUT IN OUR 10-K AND OTHER PERIODIC FILINGS FILED WITH THE SEC ON EDGAR.
Follow Liberty Star Uranium & Metals Corp. on Agoracom, Facebook , LinkedIn & Twitter@LibertyStarLBSR
View Liberty Star's Investor Presentations featuring the "Great Cluster and Hay Mountain Project, Phase 1 
Contact:
Agoracom Investor Relations
lbsr@agoracom.com
http://agoracom.com/ir/libertystar
or
Liberty Star Uranium & Metals Corp.
Tracy Myers 520-425-1433
Investor Relations
info@libertystaruranium.com