James Briscoe, Registered Professional Geologist AZ, CA
"Zinc prices hit their highest level in 10 years on Wednesday (August 16), breaking the $3,000-per-tonne mark to reach $3,111. Supply concerns, a strong demand outlook from China and a decline in warehouse inventories supported the rally." [Zinc Investing News]
"Electric vehicles and wind farms are driving rare earths demand, while Chinese environmental restrictions leave opportunities for non-Chinese producers, Australian miner Lynas said. [Industrial Minerals]
Lead prices have move up from a 52-week low $0.83 to $1.12 at close August 17th. [InfoMine]
Liberty Star's Hay Mountain Project near Tombstone Arizona is primarily a porphyry copper- gold exploration property and has geochemical anomalies for zinc, rare earth elements, lead, moly, nickel, manganese, cobalt. The area has a rich history of silver mining too. The prices of most of these metals has gone up due to supply issues now and perceived in the future. Global mining companies have stayed out of greenfield projects, but that is changing too. We have signed or are working on signing confidentiality agreements recently with more than three mining companies. These queries seem serious and we have spent thousands of dollars on enhanced reports from our previous ground studies.  We have received a bid for enhancing the data with geophysical soft and hardware.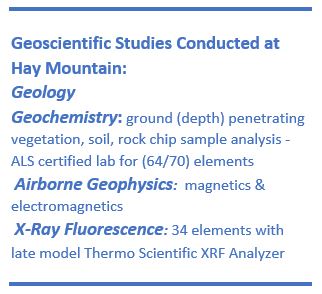 The commodities we are looking at throughout Hay Mountain are enjoying a resurgence in price. I believe these prices will continue to go up to fulfill the new economic direction lead by automotive technology, infrastructure construction, and the automation of businesses large and small.
We have presented the case for Hay Mountain during a drought in metals prices and the related lack of financing for new projects during this period. We have done top notch scientific studies that have not gone unnoticed.  Recently an Australian geologist noted that the last boom in exploration spending did not go well: "too much money was wasted on poorly conceived drillholes…..The industry has sat on its collective arse whining about low metal prices." Those with cash refuse to spend inefficiently. It is the junior explorers that need to come up with much more exploratory work prior to getting the green light from funding sources. This is not speculation on my part, or something I have read, but am experiencing now that the bigger players are returning to North American pre-discovery projects.
The Hay Mountain Project is well positioned within the US Geological Survey's "Great Cluster" of copper & gold resources, metal prices are coming along, we have undertaken meticulous field study aided by top notch experts and now the phone is ringing; we look forward to being part of a mining boom at an early stage.
RISK FACTORS FOR OUR COMPANY ARE SET OUT IN OUR 10-K AND OTHER PERIODIC FILINGS FILED WITH THE SEC ON EDGAR.
Follow Liberty Star Uranium & Metals Corp. LibertyStarUranium.com on Agoracom, Facebook , LinkedIn & Twitter@LibertyStarLBSR
Contact: Tracy Myers – Investor Relations 520-425-1433 info@libertystaruranium.com
Originally posted on Linkedin: https://www.linkedin.com/pulse/base-metal-prices-trending-up-good-news-liberty-star-james-briscoe