East Silverbell Porphyry Copper Project
The East Silverbell Porphyry Copper Project is within the Silverbell Mining District located northwest of Tucson, Arizona. Asarco Mining LLC  currently operates open pit copper mines in the area. Asarco has a solvent extraction electrowinning (SXEW) plant approximately 4 1/2 miles to the west of the East Silverbell Project property line. Liberty Star's property, within the same mining district, includes 26 unpatented lode mining claims covering a previously unrecognized porphyry copper center.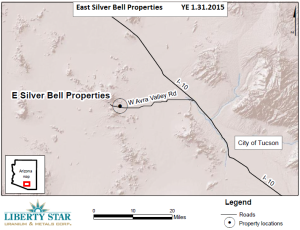 Two mining companies had some interest in the area during the late 1990s but relinquished the ground despite revealing enriched copper in one hole and substantial amounts of leached capping in all other holes, an indicator for porphyry copper deposits. Stagnant copper prices contributed to the abandonment of the ground prior to the identification of any ore body. The claims currently are within the Ironwood Forest National Monument, which was established after the claims were staked and there was a discovery of porphyry copper mineralization by drilling.
INFOGRAPHIC: Introduction to the East Silverbell Porphyry Copper Project| Click on Image to view           
PROJECT UPDATES: